Each of these delicate "basket" sterling silver earrings carry something secret inside. No single earring carries the same treasure, so every pair is a different surprise.
Inspired by the primitive design of a pair of Early Bronze Age (circa 2100 — 1800 BC) gold earrings excavated in North Yorkshire, I borrowed the form … and well, got carried away.
These earrings are hand-formed and all parts are in sterling silver. It's possible to have a coloured stone bead to be attached at the bottom of the earring, currently available options are: aventurine, rose quartz, sodalite, lapis lazuli, carnelian, moonstone and labradorite. If you'd like something else, do drop me a request.
Note: The price of this item is currently TBD. It will be for sale soon!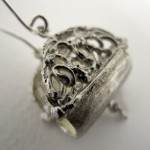 This item is not yet for sale, but will be soon!
Part of the beauty of silver is that it reacts to body chemistry as well as the environment. These earrings may lose their lustre over time. Keep your earrings away from light and air to preserve their lustre for longer.