This pair of unique, hand-formed rings begin their journey with you from opposite selves: one darkened; one unpolished, raw and pure white. Each ring is individually sculpted and not cast from a mould.
In wearing them together, the dark ring will become lighter, the white ring will begin to darken. Reacting to your body chemistry, they evolve together towards a natural shine and meet upon a silver middle-ground. Made of fine silver, which is 99% silver — a softer, purer material than sterling — these rings will gain character from your daily habits and routine, showing gleam and shine from how you touch other objects, and bear your imprint the more you wear them.
They are designed to be worn together on the same finger; however, if you would like them in two different sizes, whether for a loved one or if you want to wear them on different fingers, that can also be arranged.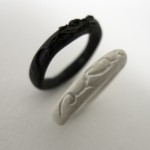 This is what the rings could look like after several weeks of wear. They shine up even further over time.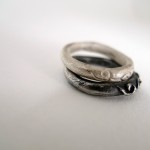 These rings are only made to order. If you would like a pair, or something similar, measure your ring size, and let me know what it is.
The process of making these rings has limitations, so I can't make rings that are very big or very small.
As they are made to order, they will take a little time to ship. It typically takes me within 7-10 business days to complete them, and I'll ship them to you immediately when they are finished. If you need them for a gift, do take into account the time I'll need to make them as well as time for delivery.
These rings are made of fine silver (99% silver), as opposed to sterling silver (92.5% silver). They are of a softer, denser material, so they can't take harsh blows, and need to be worn with a little more care.
Part of the beauty of silver is that it reacts to body chemistry as well as to the environment. These rings are designed to exhibit the most drastic of changes over time. How long it takes to transform depends on your body and how you move and touch things. For example, certain features on the surface of the darker ring may shine up more, or the lighter piece may continue to darken. I have designed these rings so that they will be interesting either way as they evolve.