What has it caught, what will it catch? This dark, unique, one-of-a-kind pendant is delicately created from sterling and fine silver.
It comes with a necklace of lace ribbon and leather (not shown), measuring approximately 19″/48cm, extendable to 23″/58.5cm, complete with darkened sterling silver clasps and extension chain.
The pendant shown in these photos has found a home. I can make a similar piece upon request.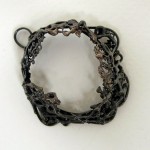 This pendant is one-of-a-kind and the original has been sold. If you would like a similar pendant or work, contact us for details.
This pendant has very fine details, do handle with care and avoid wearing alongside clothing items where it may catch on fabric (such as a scarf over the top). The ribbon that accompanies the pendant is delicate and would also need to be handle with care.
Part of the beauty of silver is that it reacts to body chemistry as well as to the environment. Your silver pendant and findings may evolve with frequent wear. For example, certain features on the surface may shine up more, or the piece may continue to darken. I have designed this piece so that it will evolve in an interesting way over time.
However, if you would like your piece restored to its original look, get in touch with me and I can help you restore it for a minimal fee.